According to recent reports, the last examination of someone was in fact, not very uncomfortable at all. I am nothing if not a false advertiser. My solution to this problem is to just have you imagine you're in an airplane seat during this entire thing.
Today we're gonna see what's up with Mark Hamill.

Mark Hamill was of course, a writer for the documentary Tracking The First Americans, and according to IMDB, his STARmeter is up 28%, whatever that means.
Oh wait. Uh, that's some other Mark Hamill. I have no idea why I started writing that, I mean that guy has nothing to do with the DCAU.
The actual Mark Hamill is known for providing the best damn Joker voice ever, and the reason so many people are miffed when he's not cast as the Joker in whatever live action Batman project is currently in production. Aside from the Joker however, he's also voiced Solomon Grundy (except for in Wake the Dead, where Grundy just grunted and Bruce Timm provided the grunting.)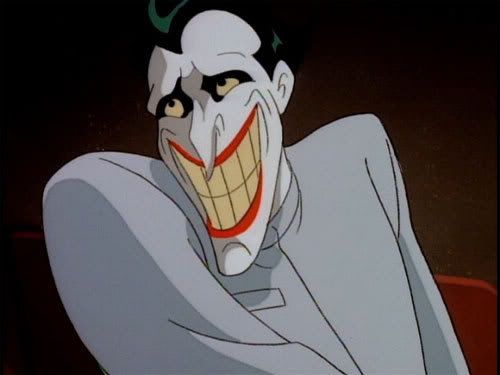 Looking over his work history, it becomes apparent that this fucker does a whole fucking lot of voice work. He's provided voices for Metalocalypse, Codename: Kids Next Door, Avatar, that Super Robot Monkey whatever show, Robot Chicken, and a bunch others that I'm too lazy to list but that everyone later will yell at me for not listing.
Comic book fans will recall that he starred in and directed Comic Book: The Movie, depicting a fan upset at the changes made to his favorite comic character for the upcoming live action movie. I watched it one night while staying up for an EEG the next morning. I wasn't allowed caffiene so I was stuffing myself with sugar and as I gnawed on a Fun Dip stick, I would giggle everytime Bruce Timm or Paul Dini appeared on the screen. I love Fun Dip sticks.
And now, some trivia from his IMDB entry:
"In an ironic counterpoint to his problem of being typecast as a upright hero like Luke Skywalker in live-action roles, he has found that his successful career as an animation voice actor has typecast him as a player of flamboyant villains like the Joker in the animated _"Batman" (1992)_ series"
Ah yes. Quite uh…ironic.
Also IMDB tells me that his STARmeter is down 2%. Oh IMDB, you are so useful.
On JLU, he also provided the voice for The Trickster in the episode, Flash and Substance, and also wore a costume similar to one he wore in a couple episodes of the live action series Flash, where he played the Trickster. Hold on I'm gonna go watch them quick.
Ok, I only made it through the first one. Wow that show was bad! Mark Hamill was pretty good in it though. He kisses some mannequin with a picture of someone who looks very Michael Jackson-esque, and uses a lot of sparklers, that are apparently far more dangerous than any sparkler I've ever used in my entire life.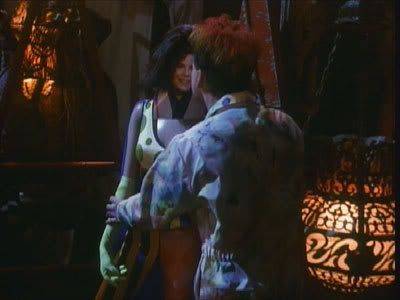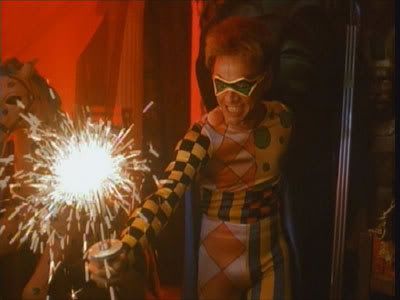 I kept waiting for him to whip out the little snake fireworks things. It seems wrong even calling them fireworks. I guess "Dull Things that Look Like Little Turds When You're Done" wouldn't sell very well.
He had a nice outfit in this too: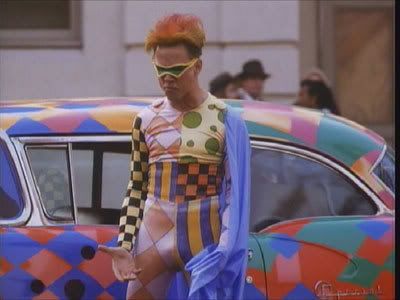 He actually had like 5 different outfits, but I would have to watch more of it to get all the screenshots and man, screw that. Oh but hey, you can totally get a Joker vibe from his voice.
I found this Mark Hamill Fan Club online. It has the worst picture thing on its front page ever: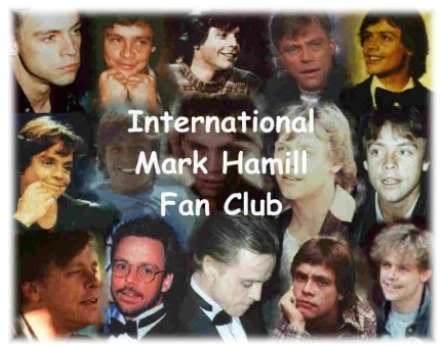 Beyond that I discovered that you can join this fanclub. For 15 dollars a year. But you get access to the Members Only section of the site, and a membershit card, AND a quarterly newsletter, which is called A Mark of Excellence. And you can submit articles for it.
There was also a FAQ, containing this, uh…awkward question:

I can't decide if the question alone is creepy enough, or the fact that it is apparently frequently asked.
So uh. That's Mark Hamill!
Oh also he was in some Star Laser Battles movie something or other, I don't know.