Things are rough over here. We've now been without screenshots for…for five days. We're down to 4 cans of soda. And I think my pen is running dry. Things aren't looking good. I don't…I don't know how much longer we can hold out over here. We're going to struggle through it. I only pray that we all survive.
Fuck.
FUCK.
It's time to write about the episode. It's–FUCK…it's Dead Reckoning. Everyone be careful. We're here on the frontlines, let's see what happens.

The episode opens on a temple some place cold. There's lots of candles. Lots of smoke too, I imagine. An old monk is praying and a ghost shows up! There's a ghost! We've spotted a ghost!
The ghost is Deadman. It kinda seems weird that he has a costume. But who am I to question a dead guy. Deadman is the ghost of Boston Brand which has nothing to do with any sort of baked beans. He's trapped that way because he needs to avenge something but then he needs to avenge something else and whatever.
Outside, there's a monk guard. He's got orange on. Suddenly, oh shit, suddenly here comes a bunch of dudes.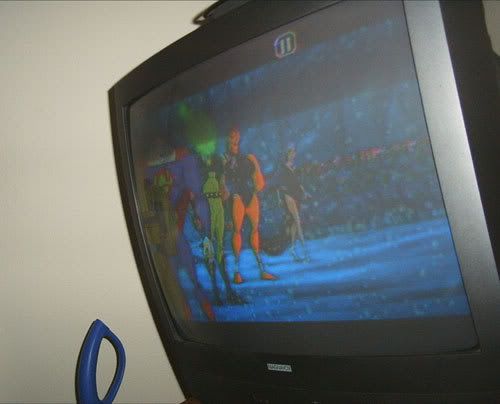 There's…there's Luthor, Tala, Rampage, Bizarro, Atomic Skull, Devil Ray. And troops, they have a lot of troops. It's hard to tell, are you guys getting this?
Are you even getting this?
The uh, the troops and the villians are breaking into the temple, but the troops are keeping great formation. Better than any marching band I've ever been in. Out of nowhere a bunch of monks come flying in!
Luthor seems to be talking to Bizarro, it's…it's hard to translate exactly, but it seems like the best way to intrepret it is to take everything Bizarro says and consider it sarcasm.
Bizarro is beating up on some monks, they're just piling on him. There's a huge flash of light!
We're all ok here, but, but it looks like all the monks might be down for the count. The old monk is standing in the doorway. Devil Ray is threatening to kill him. The old guy's gonna say something, it looks like.
Ok, I can hear him, he says "In the fullness of time, we are all dead."
That's fucking uplifting. Especially in these troubled times.
Devil Ray has fired a bunch of darts at the old monk, but he blocked them all with his staff. Devil Ray decides instead to knock the roof down, and I guess switches out his normal pointy darts for crazy explosive darts, and the roof collapses on the old monk.
Tala and Luthor are heading into the temple when suddenly Rude Titties Rampage goes on her namesake and starts smashing shit up. Tala takes a looksie and sees that it's because Boston has possessed her. She says casts some magic spell thing and knocks him out of Rampage's body. They steal some orb thing called the Heart of Nog Dem Parmack or somethin'. A bunch of glowy green things float up from all of the monks and it looks like maybe they're dead or something. Tala magics the bad guys outta there and I wish she could magic me up some screenshots and these dark times would be over.
In the Darth Vader Swamp Head, or the Secret Society's HQ (SSHQ@DVSH), Tala is taking orb over to Grodd and being just really fucking creepy. She's all calling Grodd her master and shit, and jesus christ woman as if things weren't bad enough over here. Tala is one of those chicks where, when other chicks see her, they're naturally reaction is to twitch and say "SLUT SLUTTY SLUT WHORE SLUT SLUT FUCKING SLUT." It's a very special and specific kind of tourette's.
Luthor seems rather annoyed by it too. We'll get through this together.
Back in Monksville, Rama Kushna has decided to show up now and talk to Boston. She tells him has to get the Heart of Non DePartures back in order to save all the monks that are in fact, not dead. It seems really rude to give a ghost a task of getting back something.
"Go get us a cup of coffee. Haha, you can't touch anything."
On the Watchtower, Supes, Bats, and Wondie are finishing up some paperwork, which what, did all the people in the purple suits take the day off or something, how come those three are doing fucking paperwork? At any rate, break time is rollin' around and Wonder Woman suggests going to eat some place together, like that wouldn't look totally hilarious. My god, the three of them eating out together in costume? Batman insists that he's need back in Gotham but ya know, not so badly that he didn't have time to do that fucking paperwork what the fuck.
In the middle of this ho-humming, Boston possesses Superman and
and wow I'm writing this when I'm really tired and I keep spacing off in the middle of sentences
he explains to Batman what happened back at the temple and Deadman says he keeps getting images of Africa and they're like FUCK. GORILLA CITY.
Also, if a ghost is going to space, does he have to fly all they way up to space because god that takes like for fucking ever.
Batman immediately calls Solovar.
FUCK
FUCK FUCK
EVERYTHING IN GORILLA CITY HAS GONE TO FUCK.
FUCK I WAS GOING TO HAVE A PICTURE HERE BUT I FORGOT TO TAKE IT. FUCK. I MEAN. WE LOST THE FEED. YES. LOST THE FEED.
FUCK.
The three of them head off to help, and after Deadman uses Supes to pound away on the force field uselessly, Batman tells him to fly in as Deadman and use someone else to break the controls. He zips in, finds Atomic Skull and gets the field generator down long enough for Supes, Bats, and Wonder Woman to walk 5 feet and be inside it.
Tala sees Ol' Deadie inside of Skull and blasts him out, and takes a moment to banish him from the shield control room thing. Boston is super pissed despite the fact that he already did what needed to get done in that room.
Outside there's some awesome fighting going down. Bizarro is saying shit, and Wonder Woman is swinging dudes around with her lasso, it's insane. We can uh…we can barely get any shots of it, it's all too crazy. I always wonder though, how the lackeys end up fighting Superman and shit. What sort of batshit crazy logic do they plug into their heads to make them think that fighting Superman somehow won't result in their asses being totally kicked?
Deadman possesses Wonder Woman and starts bitching at Devil Ray. He (she?) hits him pretty good and thinks about smashing his stupid, smug head in, but doesn't bother.
In the shield generator room, Grodd's put the Heart of Not My Backpack into the generator and his mind control helmet is attached to that and it's more than a little ridiculous. Then Tala magics in some box, and they're gonna put that in there too, and Grodd says "de-evolution ray" and everyone braces for the impact.
Outside there's more fighting, it's still intense and we are still without decent screenshots! Suddenly a big sheild comes passing by, even though the sheild was already up, but whatever.
HOOOOOOLY SHIT THEY'RE ALL GORILLAS.
ARE YOU GETTING THIS IN THE STUDIO
EVERYONE HERE HAS BEEN TURNED INTO GORILLAS
Can you see this? There's a gorilla that used to not be a gorilla!
The main effect of this "turning everyone into a gorilla" thing is that you realize how terrible everyone would look as a gorilla. Especially women.
Well, Tala.
Despite how highly advanced gorilla technology is, Supes manages to smash up the machine powering the gorilla-maker. The Heart of Nod Da Balmrack breaks I think, and the green glowy things return to the monks.
As everyone is chillin' out, probably getting ready to go do some new paperwork, Devil Ray is sneaking up and thinking about blasting Wonder Woman right in the head. Deadman sees him though, and jumps into Batman's body where he grabs a gun and blasts it at Devil Ray.
AND FUCKING KILLS HIM.
This is not some 4th grade "not a lethal shot to the face" type shit. This is "HE IS FUCKING DEAD."
Deadman leaves, and as you would imagine, Batman is absolutely fucking pissed the fuck off.
Rama Kushna pops up again to talk to Deadman. He gets yelled at for killing that dude even though he didn't mean to, and now he has to stay a ghost some more, as if it seemed like he was going to ever get to stop being goddamn ghost at this point. She does let him know that the monks aren't dead though, so I guess that was nice of her.
Bitch.
In Darth Vader's head, Luthor is making fun of Grodd's incredibly stupid plan and Grodd informs us that there is more than one way to peel a banana. Hold on a second. I gotta check something out.
Ok, after a few minutes of research (thinking sorta hard about it) I have determined that, in fact, there is pretty much just the one to peel a banana, really.
Luthor decides fuck this and just stone cold shoots Grodd. He's not dead though, I guess because he's a gorilla. And Tala for some reason is still alive despite being a SLUT SLUTTY SLUT FUCKING SLUT SLUTTING MCSLUT WHORE SLUT and is now macking on Luthor because he's not laying on the floor in a heap. I am really shocked he doesn't just shoot her too.
THAT'S THE END.
WE BARELY MADE IT OUT ALIVE.
TUNE IN MONDAY
THINGS GET WORSE BEFORE THEY GET BETTER I ASSURE YOU.